3D design services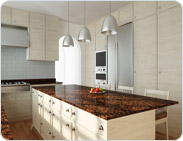 3D graphics
We can help with visualizing all type of projects in 3D. Both still image projects and animation. Example projects include:

- Visualization of interior or exterior of buildings.
- Film and computer game projects.
- Product and parts visualization.

Our creative and highly skilled designers, have many years experience with designing photorealistic 3D graphics, and will make our client's concepts spring to life. With our satisfaction guarantee, you can trust that the result will be great, every time.
Each project is different, that's why it is not possible to have a set package price for every 3D project, such as what we have for logo design and web design projects. The price depend on what kind of detail the client require and project type. To get a price quote, please make a price enquiry for your project and we will give you a price quote for the project, within 48 hours. What we can promise is a good price for high quality photo realistic 3D graphics.
make price enquiry